HiHello uses a CardDAV server so that you can sync your HiHello contacts with your iOS device. This will allow you to access your HiHello contacts in your phone's contact app.
How it Works
When you add HiHello contacts to your address book by using a CardDAV profile, you won't need to give up any privacy to your current non-HiHello contacts.
Unlike a one-time export, with a CardDAV profile, your contacts will update automatically so that you will see new contacts and updated information on your phone.
To receive HiHello contacts in your device's address book, you'll need to install HiHello as a profile by tapping "Set up address book" in-app. This allows us to set up your account more easily, without needing you to manually enter your account information.
Depending on your device's operating system, your phone will either automatically download and install the profile, or it will download but require you to navigate to your Settings app to install.
Logging Into the Mobile App
If you have not already downloaded the HiHello mobile app, you can find it here:
Once you have downloaded the app:
Open the mobile app
Log in with your email and password or your SSO of choice
If you are currently using the web app, you can switch to mobile:
This will bring the QR code into focus
Scan the QR code with your mobile device to be automatically logged into your account
Establish Sync With CardDAV
To sync your contacts, you will need to download and install the CardDAV profile by following the steps below.
Open the HiHello mobile app
Tap on the Settings tab: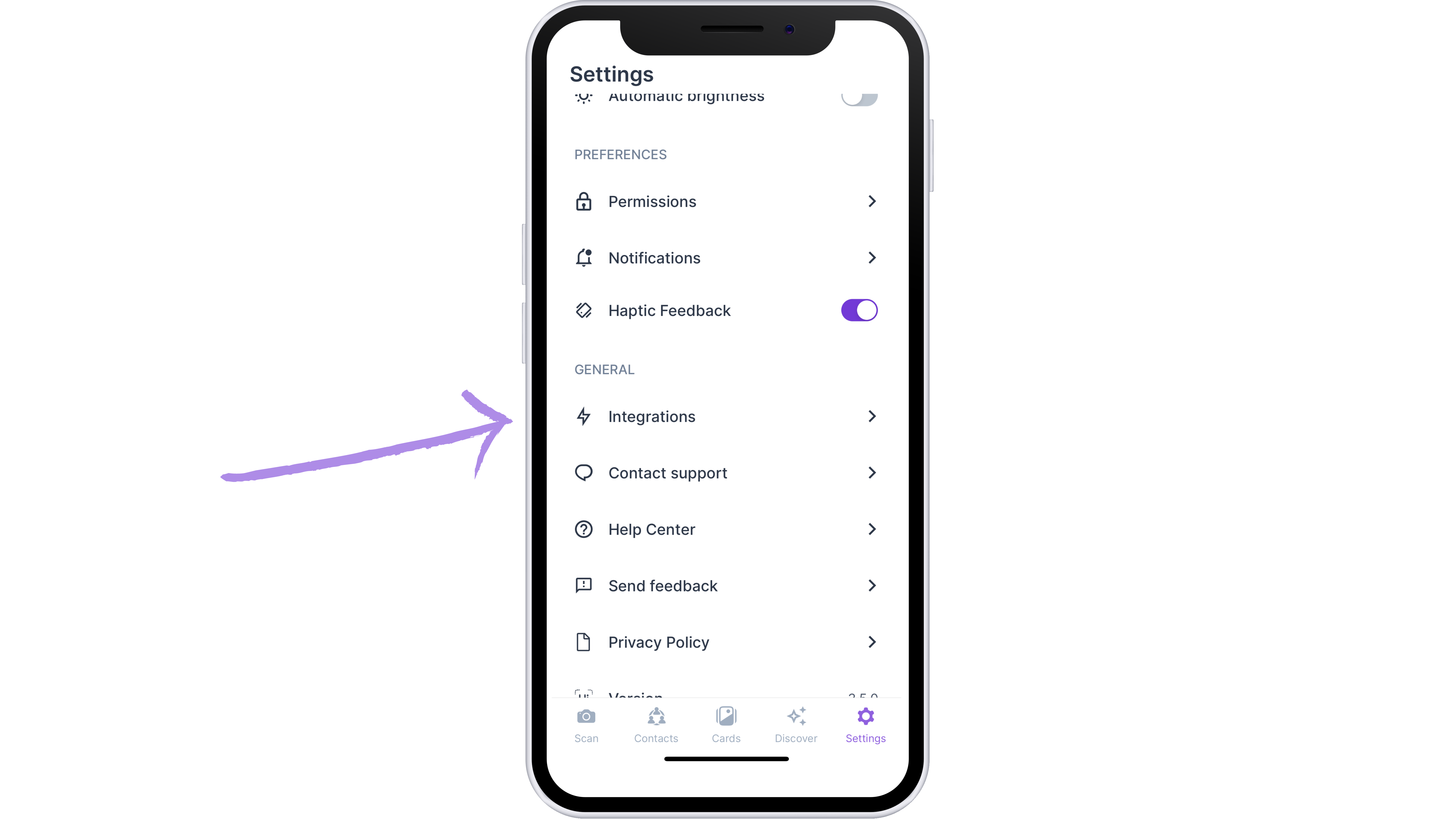 Tap on Contacts on this device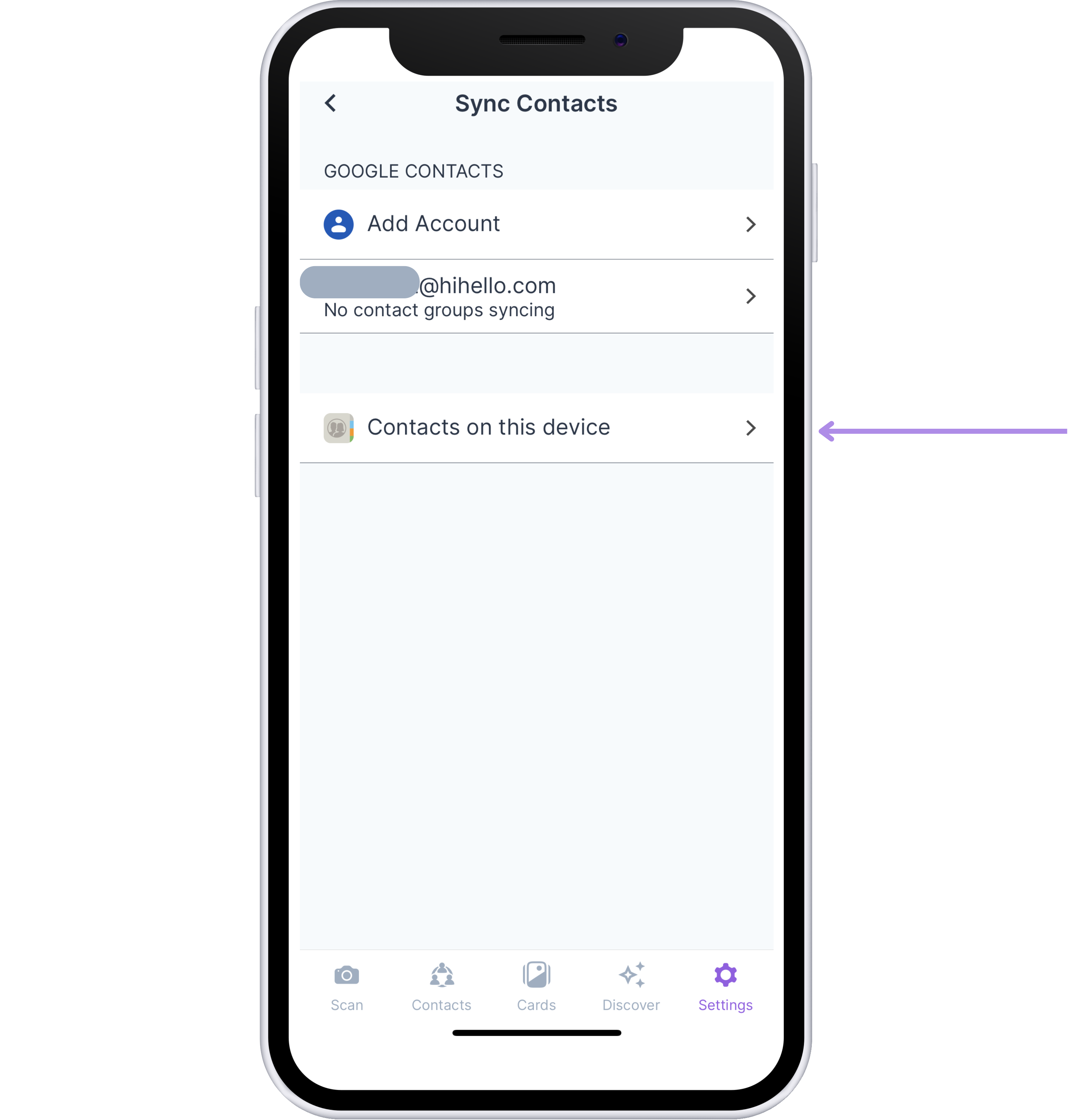 Tap Begin Setup - it is very important that you do this *just once*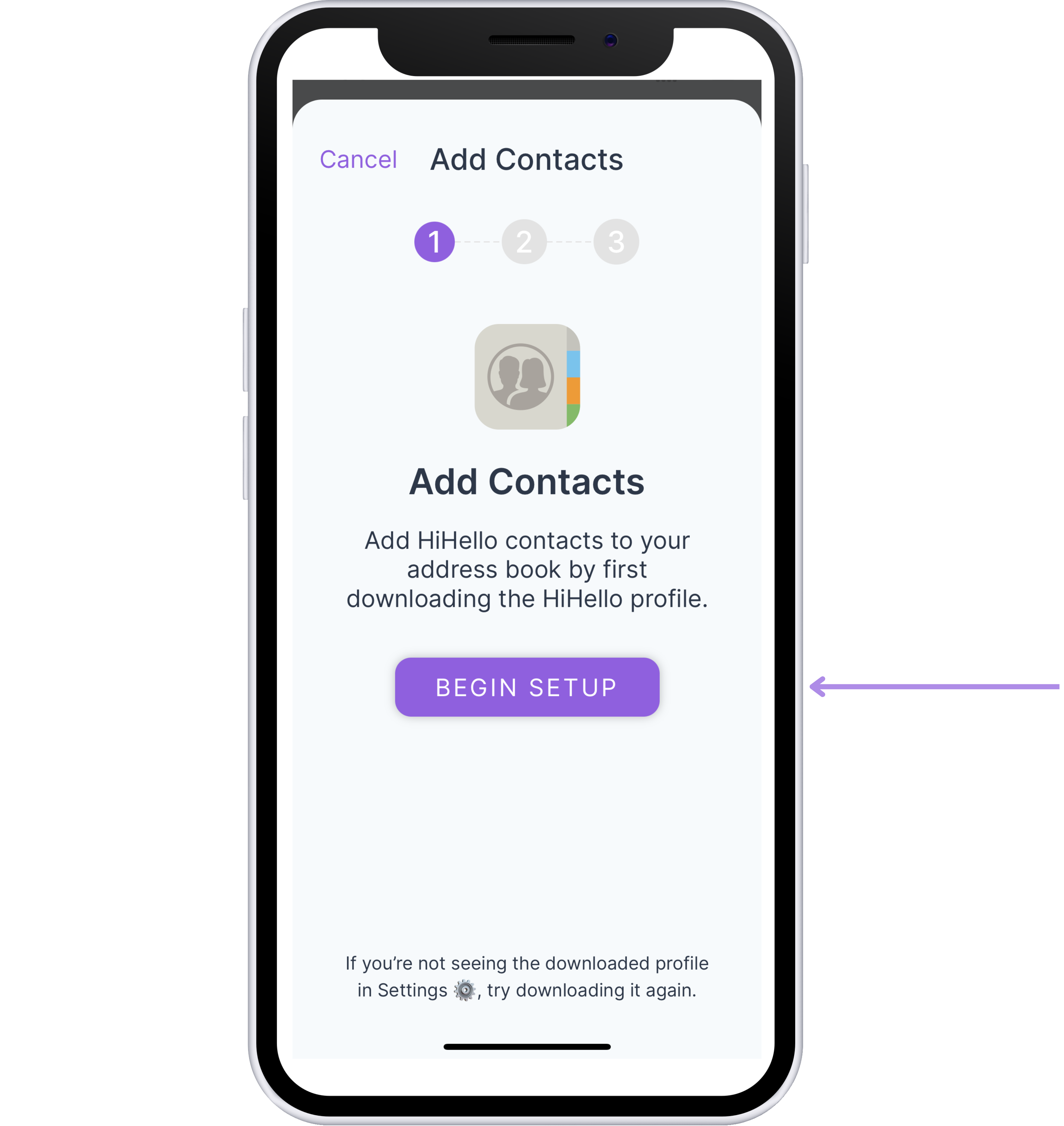 You may be asked to click Allow in order to proceed: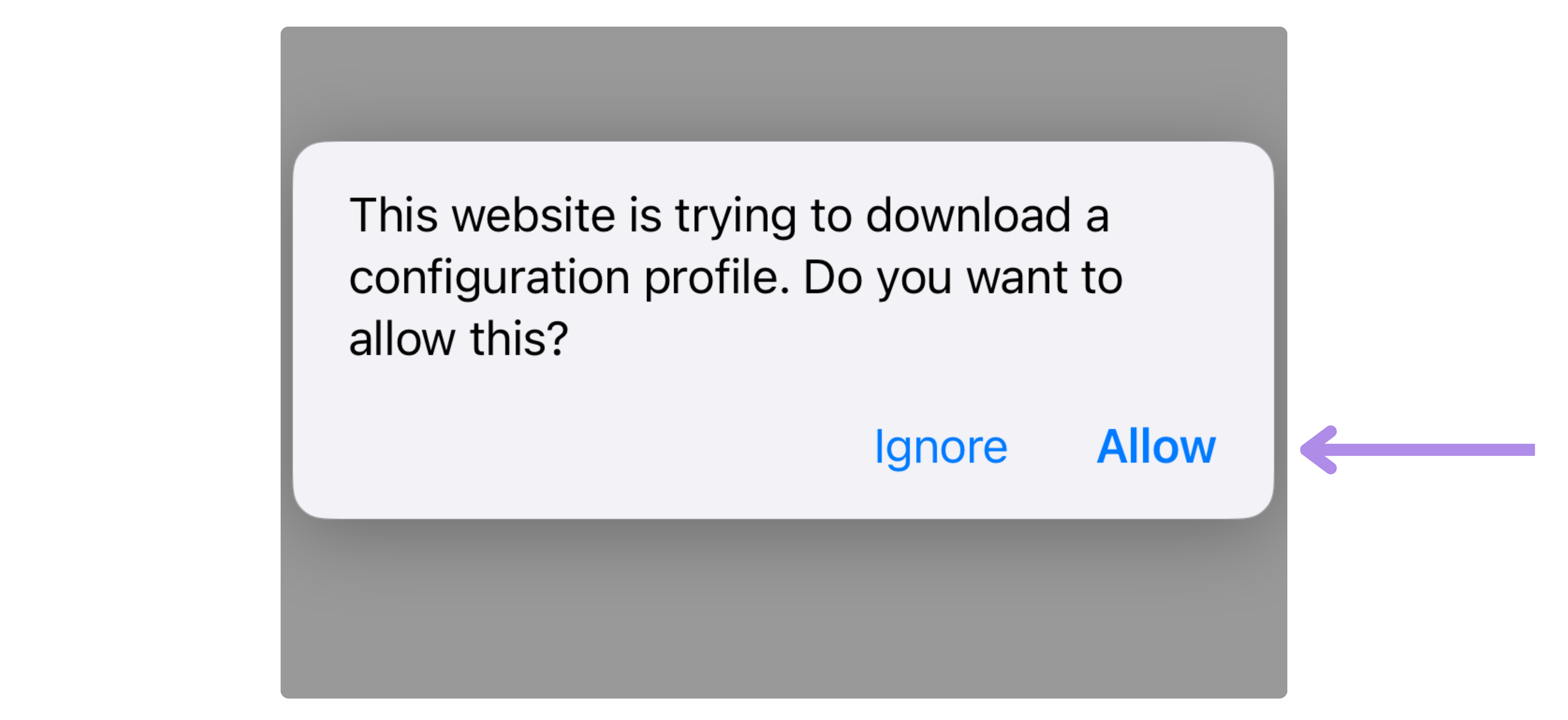 You will get a confirmation of the profile being downloaded:
Close the HiHello app and open your Settings app
Tap on General:
Tap on VPN & Device Management:
Tap on the HiHello Contacts Profile: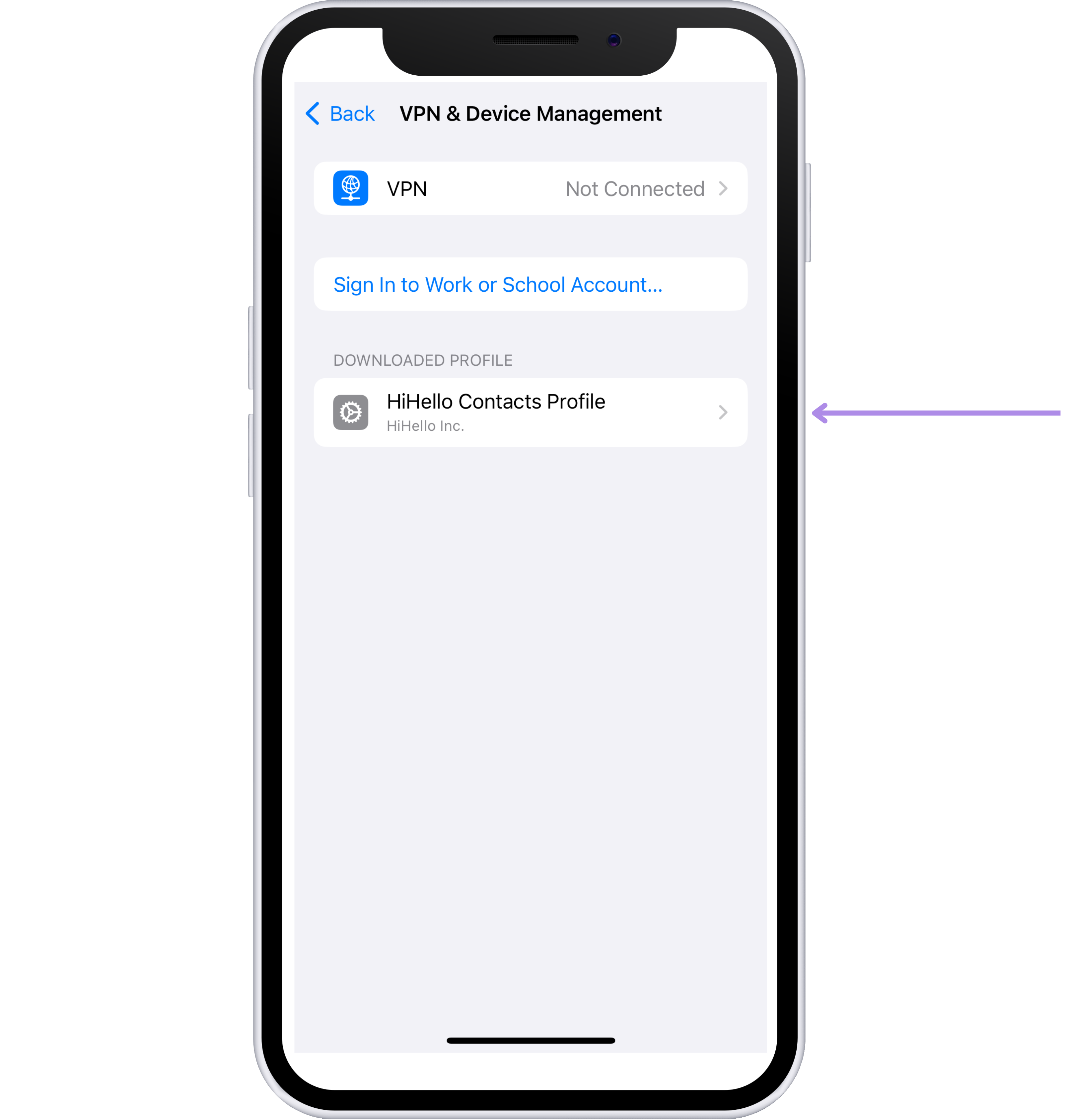 Install the HiHello Contacts Profile - you may be asked to enter your device password:
Here is a video that shows this process as well: