With a HiHello Professional, HiHello Business, or HiHello Enterprise subscription, you can add notes and tags to your contacts. Organizing your contacts will make it easier for you to maintain a personal connection with the contacts in your address book.
If you don't have a premium subscription but would like to upgrade to add Notes and Tags to your contacts, you can find out more by visiting our Pricing Page.
What are Notes and Tags in HiHello?
With a subscription, your smart address book includes a place where you can add a Note to each contact you add to your HiHello Contacts page. Notes are a great way to maintain that personal connection you've made while networking.
Tags allow you to organize your contacts into groups. For example, you could add a tag for an event you attended and each contact you met at that event would be grouped together. This makes it easy for you to find your contacts and immediately identify how you know them.
Adding Notes and Tags on the Web App
First, log into your account on the web app. Once you are logged in:
Go to your Contacts page
Select the contact you would like to update, this will open a tray on the right of your screen: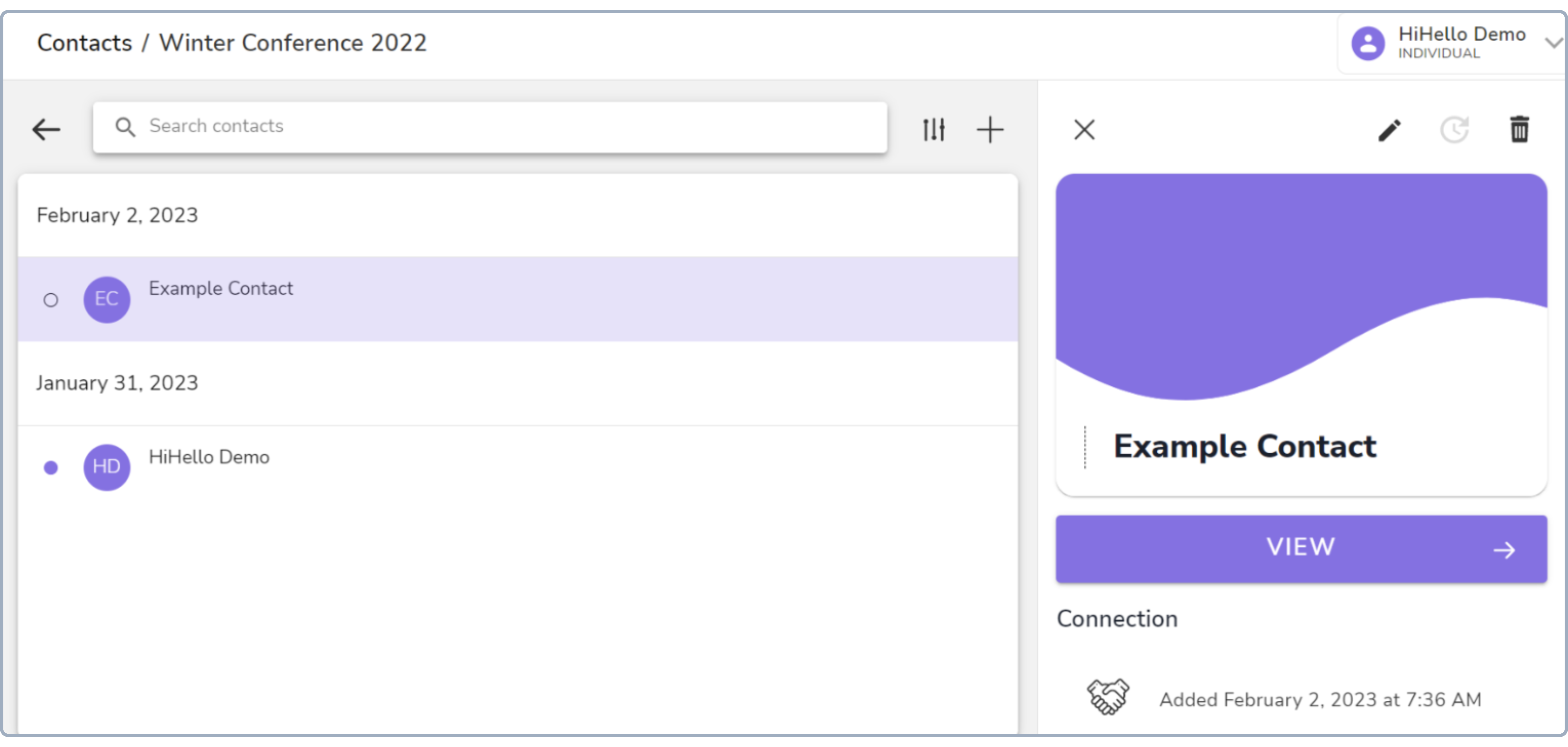 Click the Edit button above your contact if you would like to make general edits

Please note, you are not able to edit certain information if the contact is a Live Contact
To add a Tag, either scroll down in the tray and click the EDIT button next to Tags OR click the EDIT icon above the contact and then click the EDIT button next to Tags

Select a pre-existing tag or use the text box to create a new tag
Be sure to click DONE when you are finished editing or adding tags to confirm the changes
If you are on the contact Edit page, you will also need to click Save to update the entire contact
Please note, when you create a new tag, it will create a new group on your Contacts page, like the group Summit 2.0 in this example:
To add a Note, click the EDIT icon above the contact
Add a Note in the Note field in the middle of the screen
Click Save to update the contact
Adding Notes and Tags on the Mobile App
First, log into your account on the mobile app. Once you are logged in:
Go to your Contacts page
Select the contact you would like to update
Select the appropriate pencil icon to update your Tags or Notes:
To add a Tag, click the pencil icon beside Tags

Select a pre-existing tag or use the text box to create a new tag
Please note, when you create a new tag, it will create a new group on your Contacts page

To add a Note, click the pencil icon beside Notes

You will be able to edit previous notes or add a new note
When you are finished, click Save