The HiHello mobile app includes an AI business card scanner. This allows you to scan a paper business card in the HiHello app and see the new contact added to your HiHello contacts page, usually within minutes. If our AI is unable to provide an absolutely perfect transcription, then a real-life human will review the scan to ensure that it is accurate.
Logging Into the Mobile App
If you have not already downloaded the HiHello mobile app, you can find it here:
Once you have downloaded the app:
Open the mobile app
Log in with your email and password or your SSO of choice
If you are currently using the web app, you can switch to mobile:
This will bring the QR code into focus
Scan the QR code with your mobile device to be automatically logged into your account
Using the Card Scanner
Open the HiHello mobile app
Tap the Scan icon:
Tap Scan to open the scanner: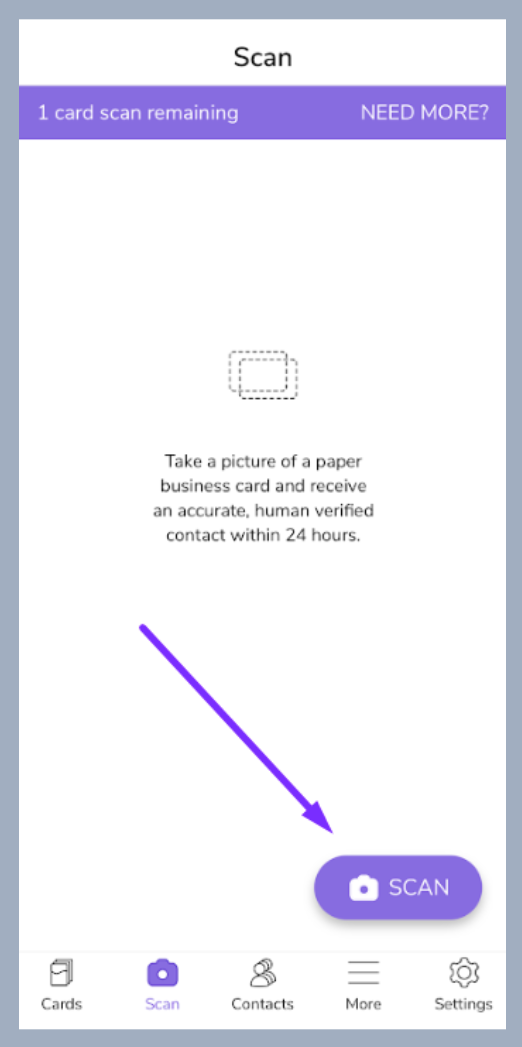 Give the HiHello app permission to access your phone's camera
Tap the circle at the bottom of your screen to scan the card - position the card so that the entire card fits within the white frame: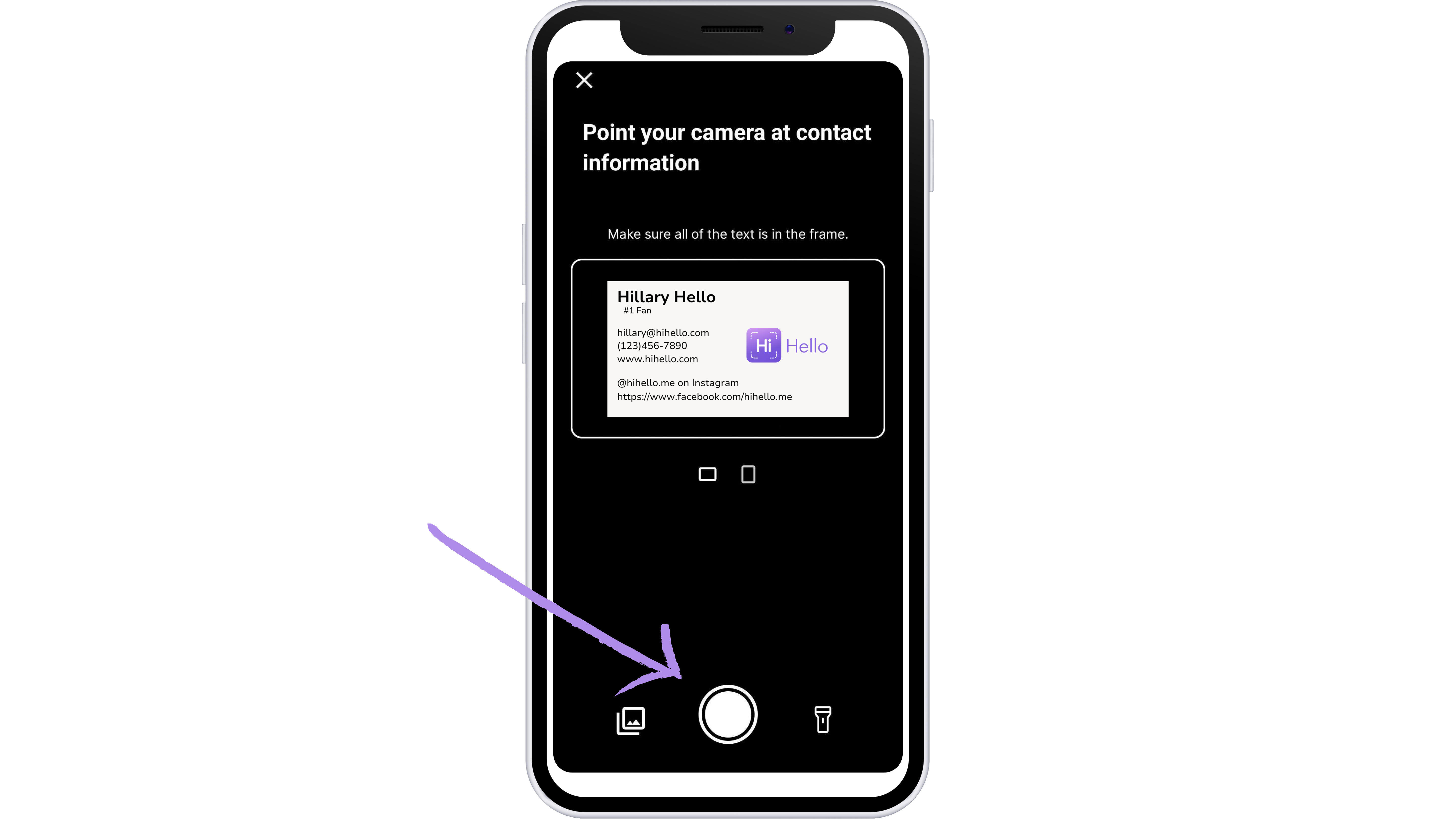 You will be able to review the scan before submitting it - at this point check to ensure the scan is clear and that no information has been cut off or blurred. You may tap Retake to scan the card again if you have any concerns.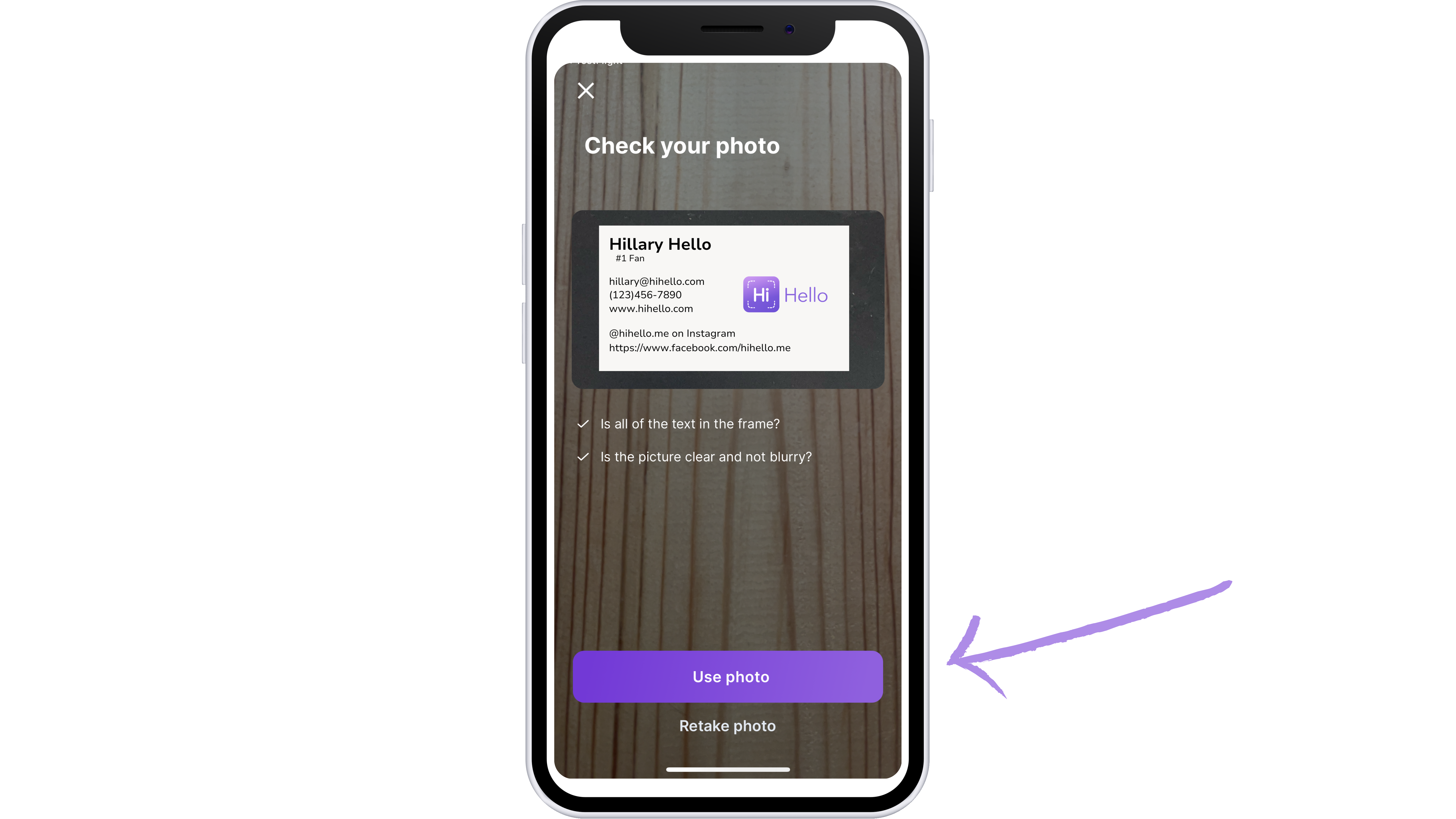 When you are satisfied with your scan, tap Submit for Review
Please note, you can retake your scan as many times as you need to before submitting it and it will not affect the number of scans you have remaining. However, after you click SUBMIT FOR REVIEW, the scan will always count toward your monthly scan limit, even if the scan cannot be processed by our team due to blurriness, cropped words, glare, etc.
Scanned Contacts in Your HiHello Address Book
After you submit your scan, our AI scanner will transcribe the card and add your new contact to your HiHello Contacts page, often within moments. If our AI is unable to accurately transcribe your card, a human from the HiHello team will review the scan, in which case, please allow one business day for your card to be transcribed.
You will be able to find your new contacts in the contact group labeled Scanned on your Contacts page or by searching for their name.