To cancel your subscription, please log in to your HiHello account on the web to access your billing portal.
First, let's walk through how to access the web app. If you are already using the web app, please feel free to skip to Cancelling Your Subscription in the Web App below.
Accessing the Web App
There are two ways to access the HiHello web app:
Go to https://hihello.me/app and log in to your account
Use the mobile app to switch to the web app
If you're on the HiHello mobile app, you can easily switch to the web app by following these steps:
Open your account on the mobile app
Tap on the More tab
Select Switch to Desktop: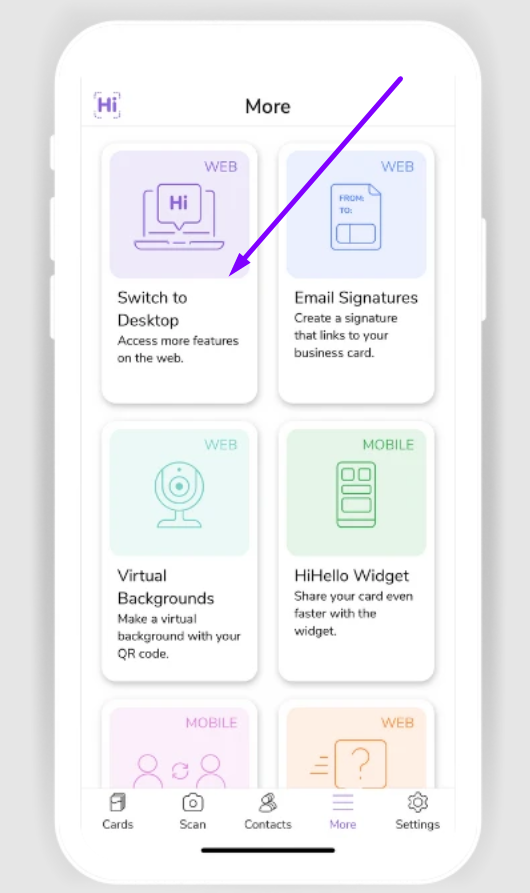 Tap OK
You will receive an email with a login link
Open the email on your computer and click on the button in the email to log in to the HiHello Web app
Canceling Your Subscription in the Web App
Now that you are logged into the web app:
Click on your user icon in the top right corner
Select Settings
Within Settings, click Manage under Subscriptions to go to the billing portal:

Once you are in the billing portal, you can cancel your subscription.
Please note: Your subscription will remain valid until the end of the paid subscription period and will no longer renew once the subscription term has expired.
After your subscription has ended, you will still be able to access your account using the free version of HiHello.
We would love to hear your feedback so that we can continue to improve and make the HiHello experience better for everyone in the future. Please send any feedback to support@hihello.com or by filling out our Contact Support form.