After you claim your company-issued digital business card, you may find that you want to update it. For example, your organization may ask you to add information to personalize your card, like your LinkedIn profile or your phone number.
When your organization issues HiHello cards to you and your colleagues, your account admins can set editing permissions for each card. Some cards can only be edited by an account administrator. On other cards, individual users may be able to edit some or all of the items on the card.
First, to find out if you can edit your card:
Go to your Cards page
Select the card you want to edit
There will be clear indications in your account if this card needs to be edited by an administrator:
If you are viewing your card in the web app, the pencil icon above your card will be grey and unclickable.
If you are viewing your card in the mobile app, tapping the Edit button will generate a message asking you to contact your administrator.
If your card has editing permission enabled, click on the Edit button represented by a pencil icon to get started.
Now that you are in the editing experience, you can navigate to various tabs to update the information on your card: General, Display, Fields, and Card (on the web app). If you would like to read about these tabs in more detail, please visit these guides:
Your account admins have the ability to make various items on your card required, editable, or noneditable. These states will be clearly marked as you edit your card.
An asterisk indicates that a field is required and must appear on your card:
The pencil icon with a slash beside the main indicator means that an item is noneditable. The item will also be grey, to indicate that it cannot be edited:
Only an admin can edit a noneditable field, so please reach out to the account admin from your team if you need to update a noneditable item on your card.
There may also be some optional items that you can include or exclude from your card by clicking a toggle switch. In the example below, the toggle switch for the optional Calendly field has been turned off and this item does not appear on the card preview on the left: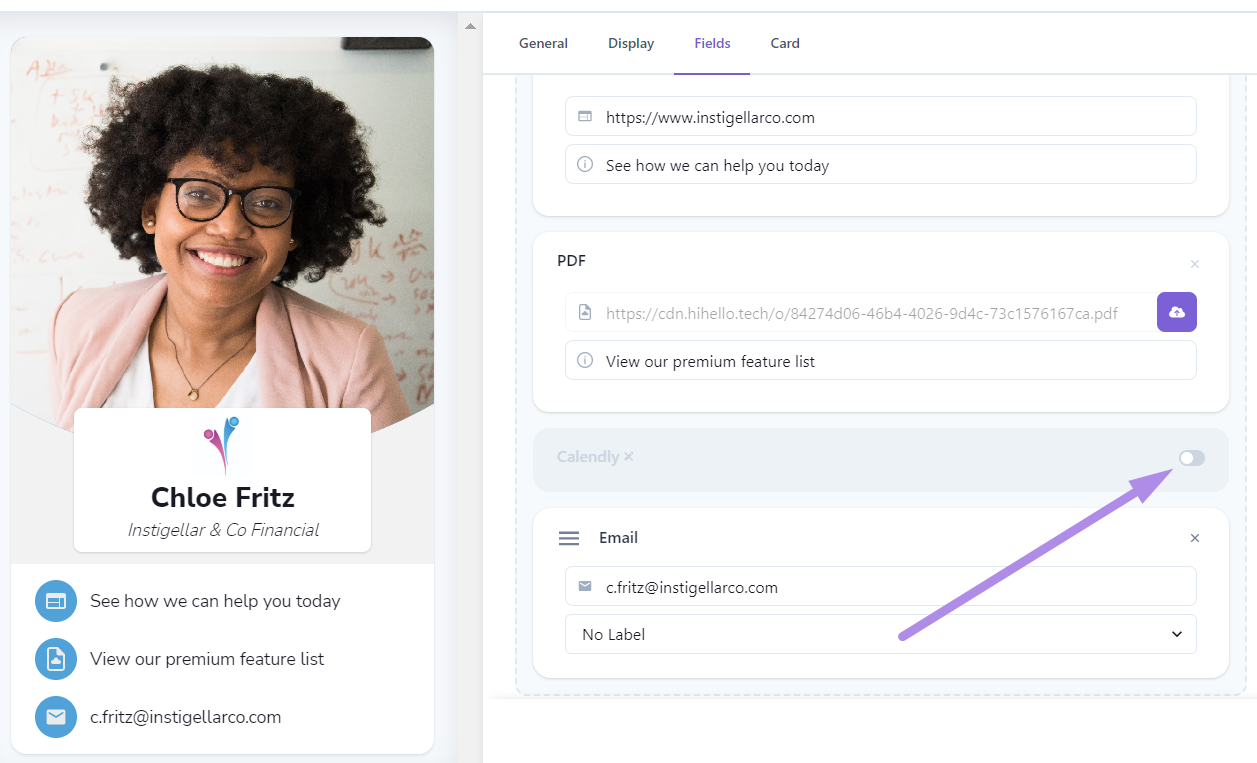 After clicking the toggle, this optional Calendly field is now included on the card: