HiHello offers our Salesforce integration to all HiHello Business and HiHello Enterprise subscriptions, allowing you to add your HiHello contacts to your Salesforce Customer Relationship Management (CRM) system.
To sync your HiHello account with Salesforce using our native integration:
Select your Company profile
Click the gear icon on the left side of your screen to go to your Settings page:
If Sync Contacts is not expanded, click Add Account: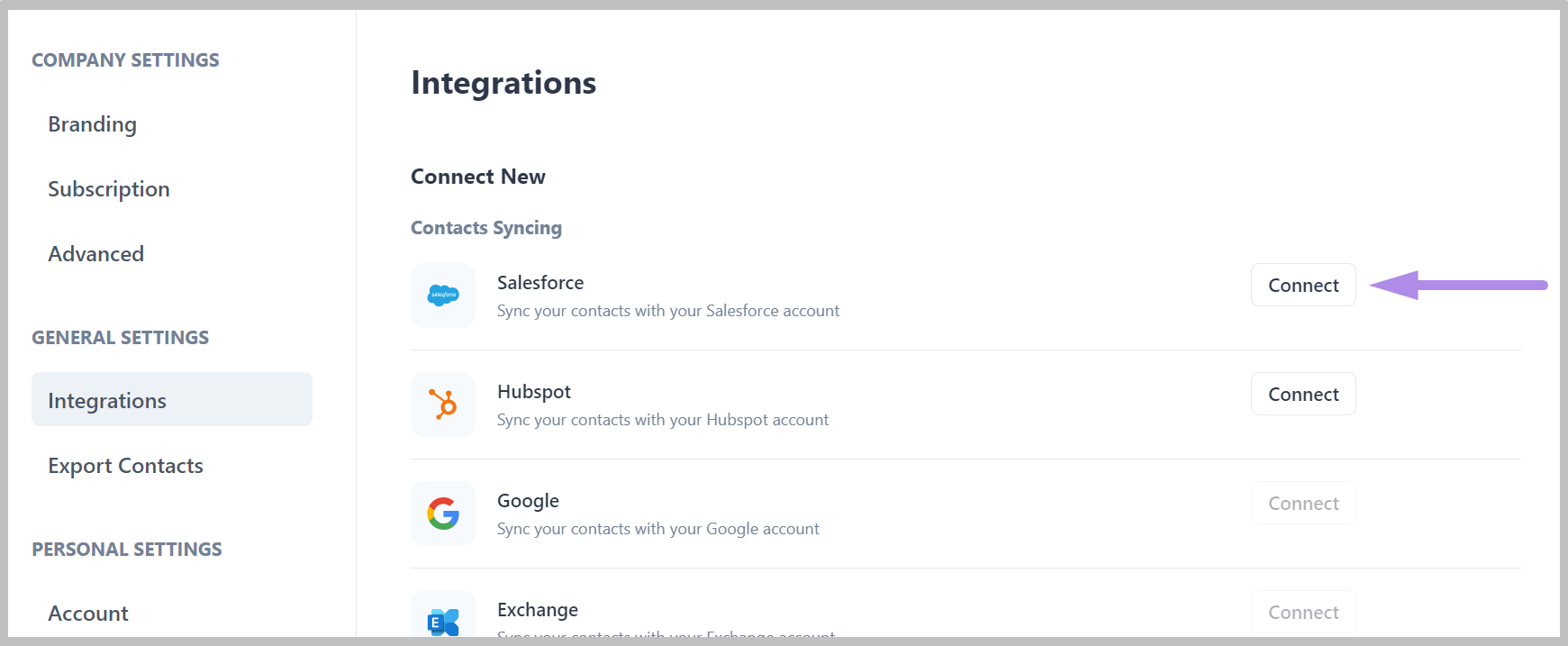 Click Connect Salesforce:
Log into your Salesforce account: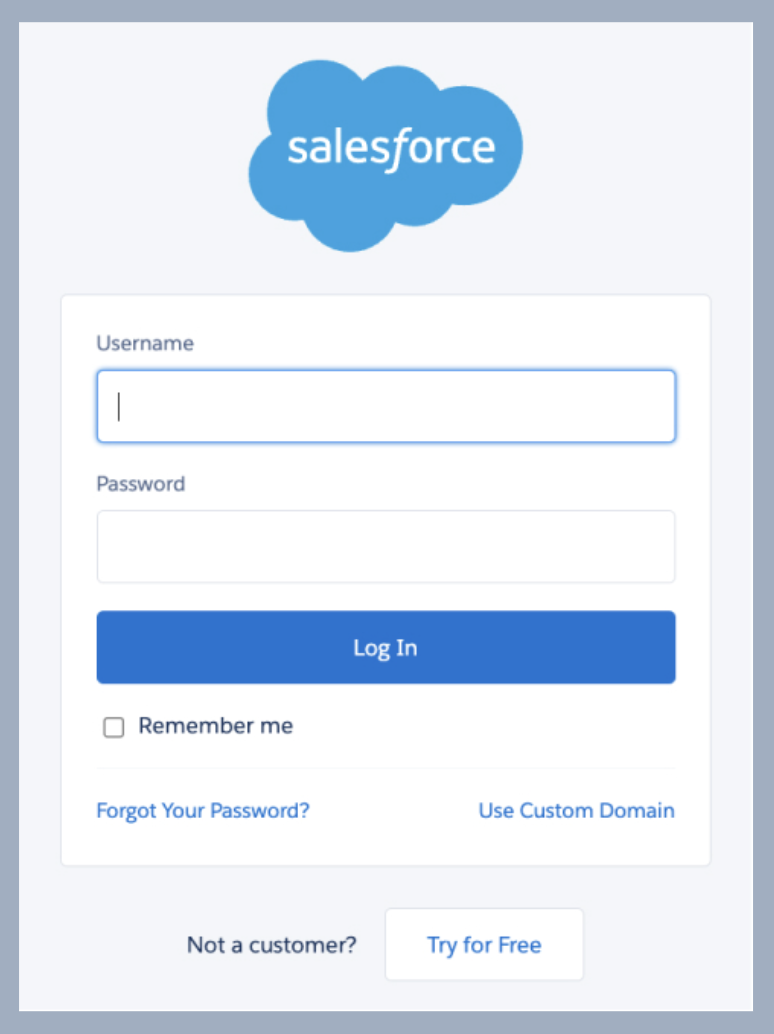 On the following screen, click Allow to give HiHello access to sync with your Salesforce account: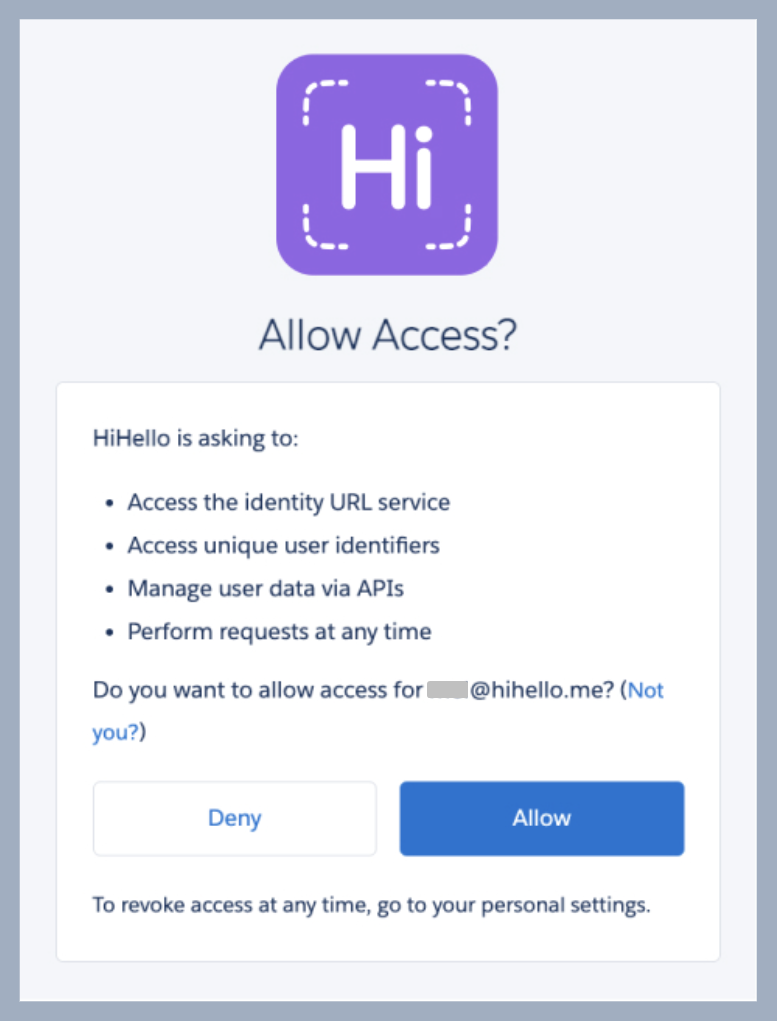 Once you grant HiHello access, you should see your Salesforce account listed under Sync Contacts on your HiHello Settings page.
Click the toggle for each card you would like to sync, the contacts from each selected card will be synced to your Salesforce account. In the following image, the card names are "Demo Business" and "Eleanor Springsen":
You can adjust how the contacts are imported - either as Contacts or Leads by selecting the person icon (Contact) or the dollar sign icon (Lead):
After syncing with Salesforce, the HiHello contacts associated with your selected cards will be added to your Salesforce account. Any future contacts added to your HiHello account will be immediately synced with your Salesforce account.
If the email address on a synced HiHello card matches an email address in your Salesforce account, that team member will become the owner of the Lead or Contact. If there is no email address on the selected HiHello card or if the email address does not have a match in your Salesforce account, then the Contact or Lead owner will be the person who initiated the sync between Salesforce and HiHello.
You can disable the sync at any time by clicking Stop Sync under Sync Contacts on the Settings page in your HiHello account:
Please note, if your Salesforce account has required fields, it can affect your contact syncing with HiHello. For example, if your Salesforce account requires every contact to have the field "company name" but a contact that you are importing from HiHello does not have that specific field, the HiHello contact will not sync with Salesforce.